எம்.ஜி.ஆர். எழுதிய உலகம் சுற்றும் வாலிபன்
by
Mgr
My rating:
5 of 5 stars
Vijaya Publications have released a paper back edition of MGR's experience in filming "Ulagam Sutrum Vaaliban" (World Trotting Youth) as MGR Ezhuthiya Ulagam Sutrum Vaaliban Uruvana Kathai. MGR wrote his overseas film shooting experience in Bommai Magazine from July 1971 to September 1972 titled "Thirai Kadalodi Thiraipadam Yeduthom"
I was searching for this article for several years because this is the only literary work completed by MGR. All other works such as his Biography "Naan Yen Piranthen?" (Why Was I Born) "Yen Kathali" (My Lover) etc. were unfinished due to several reasons to name one is, after the Political party formation in 1972.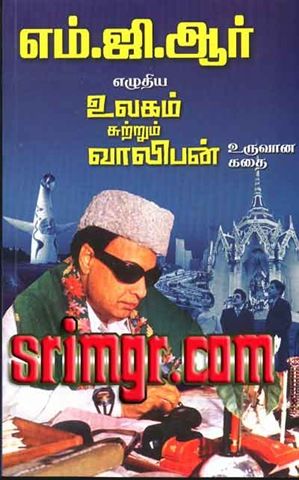 This book contains about 14 chapters it starts from getting permission from the Indian Government and how they procrastinated.
MGR narrates about how many of his fans were waiting near the Airport and the same when the plane takes off that he saw only the crowd beneath. Apart from MGR fans the people who came to wish his success are N.T.Ramarao (who later became Chief Minister of Andhra Pradesh like MGR) Director Krishnan Panju, Actors Srikanth and Gemini Ganesan, Director and Producer Banthalu and also the then Chief Minister of Tamil Nadu Karunanidhi.
In the second chapter MGR mentions about the outline of the story, real life characters of his three Heroines Chandrakala, Manjula and Latha. And also he tells us how much responsibility he has in taking care the whole crew.
in this book we will come to know about some hilarious moments of actors Nagesh and Asokan in the airplane. Like how many airplanes they changed to reach Osaka for Expo 70.
The first shot in Expo 70 was taken on 8.9.1970 and the next day is the shooting of the famous duet song "Ulagam Azhagu kalaikalil surangam" further MGR explains how each shot was taken and how many hours the crew spent in taking that particular first stanza of the song. (I like the readers to watch that song in YouTube)
MGR also mentions the part played by Director P.Neelakandan in filming Ulagam Sutrum Vaaliban and MGR highlights from shooting a scene from a Tower in Expo 70, the one take of MGR & Chandrakala (Tower), Nagesh, Asokan (a mile away walking with the crowds) and he describes the situation how other actors co operated.
The book ends with Hong Kong shots and how a Indian helped MGR in making the song and scenes in his own house.
The book has several unseen images, deleted scenes from Ulagam Sutrum Vaaliban and behind the scenes.
A special mention is about the writing skills of MGR, I have read some of his literary works, in every work his writing skill is like conversing with us and not just a write up. This book is no different. When we read a chapter, in some places a question will pop out, that question will be answered in the next sentence and while MGR explains, some times we ask ourselves "how" and that "how" will be answered in the next line. It will appear to us that we are not reading a book, it is like MGR conversing with us face to face.
All MGR fans should buy this book. The cost o the book is
Rs.125/
- sold in Major book stalls.
This article is from my blog srimgr.com and you will find many more images from the book. The link is given below.
http://mgrroop.blogspot.in/2009/07/mg...
View all my reviews