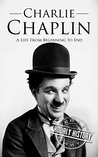 Charlie Chaplin: A Life From Beginning to End
by
Hourly History
My rating:
4 of 5 stars
A short book about the life of Charlie Chaplin from Hourly history. Who will forgot his tramp character and the movies like Modern Times, The Kid, City Lights and Great Dictator.
His characters were cast out from his childhood miseries. The short mustache Chaplin used has a back story that he looked young and he was made to put mustache to make him look older. All Chaplin needed for a comedy movie is a park, a policeman and pretty girl. The author has covered the failed marriages of Charlie too.
It is a revealtion for me that Edgar Hoover gave that much torture for his career to end and relocate from US.
The book has enough information for a beginner. Highly recommended to Chaplin fans.
View all my reviews